We are grateful for the many fundraisers held by area schools to help family, friends and neighbors through the 1889 Foundation. What a meaningful way to show you care! Two fundraisers were held recently to benefit area cancer patients, helping us provide assistance with meals or supplements, transportation to treatment, or help with special circumstances that may arise. Hats off to these wonderful students, and everyone who supported their efforts!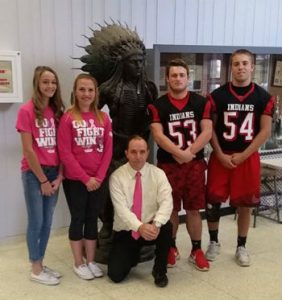 The Conemaugh Township Area School District "Serving Our Neighbors Club" members, football boosters, and others supported October fundraisers that resulted in a generous donation to the 1889 Foundation.  Pictured are Serving Our Neighbors Club members from left to right: Carlie Dillon, Meagan Ott, faculty Gary Sechrengost, Trent Troxell, and Trent Simko.
The Northern Cambria Football Boosters held Colts Against Cancer fundraisers to benefit the 1889 Foundation as well, including their first Colts Against Cancer Game, held on Senior Night (Oct. 7).  We thank all who supported this effort, including  John Thomas Heating & Plumbing and Graphic Connections.