The 1889 Foundation is fortunate to be the beneficiary of a variety of fundraising events held by people and organizations who want to make a difference in our community. In September, the family of Derek Brothers worked together to throw a wonderful event in memory of this special young man (pictured below right), who passed away suddenly and tragically in 2012 from an undiagnosed heart condition.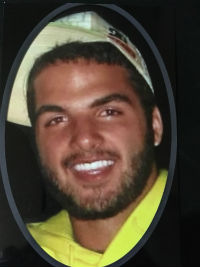 "We decided to begin a tradition of holding a memorial fundraiser every year," explains his aunt, Julie Novak. "When Derek was born, he had to be in the neonatal intensive care unit for awhile. So it made sense to us to choose the 1889 Foundation for our very first beneficiary."
The family wanted to create an annual event that would be fun for everyone attending, a joyful celebration of Derek's life. They decided to work with Studio PM, a local company that offers "paint-and-sip" parties, where a professional artist guides participants as they create a painting. The family selected a seasonal "pumpkins in a row" design, and held the event at the Ebensburg Masonic Lodge on Sept. 9.
"Derek was just 17, and he was a happy-go-lucky kid with so many friends," Julie Novak says. "To have a social event to honor his memory was fitting."
A basket drawing was also part of the event to help raise even more money. Diverse gift certificates, lottery tickets, decorative items, toys and children's items, food and more were among the baskets available.
Not long ago, Derek's dad, Jim Brothers, came by to present the check to Sue Mann, president of the 1889 Foundation.
"The Brothers family experienced a terrible tragedy when they lost Derek," says Mann. "But it's truly inspiring that they've chosen to honor his memory in this way, and we are grateful."