This year, the Conemaugh School of Nursing Alumni Association established the Dana Petrunak Conemaugh School of Nursing Alumni Association Fund at 1889 Foundation.  The fund honors the memory of  Dana Petrunak, a past president of the association, who passed away June 7, 2014.  A scholarship will be given to a deserving student each year along with the Spirit of the Pink Cross Award.  According to Heather Richards, nurse alumna, presenting the Spirit of the Pink Cross Award at commencement ceremonies was one of Dana's favorite things to do.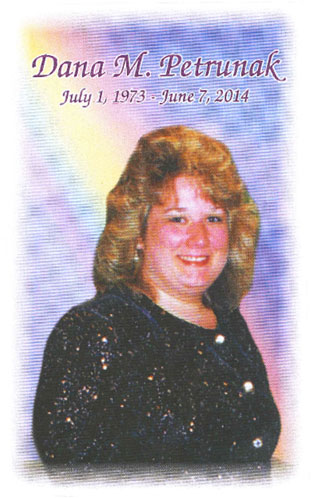 "Dana lived in the dorm and was always the life of the party.  She worked hard and was well-liked by patients, peers, and the faculty," said Louise Pugliese, who was the Director of the Conemaugh School of Nursing when Dana was a student there. Dana demonstrated leadership qualities from the start of her career, Pugliese added, and so it was no surprise to those who knew her that she quickly attained the position of hospital supervisor at Latrobe Hospital.
"Dana's husband Ron, who is an RN at Conemaugh Memorial Medical Center, and her two young boys were the love of her life.  She was close to her family and had a sea of friends," Pugliese continued. "Her powerful religious commitment was key to the way she lived her life and treated others."
Kelly McAdams, an alumni association officer and currently assistant professor in the nursing program at Mount Aloysius College, remembers how Dana demonstrated unwavering dedication to the alumni association and the School. "She was always an advocate for the school and its graduates," explained McAdams. "She truly loved the School and had an emotional connection to it.  She was an exceptional, positive, upbeat person who truly lived her values and believed everything good in life could be yours if you worked hard and believed.  She is deeply missed."
"We are all blessed to have had Dana as a part of our life journey," added Pugliese.  "We are proud to honor her and keep her memory alive through this scholarship fund."
1889 Foundation is grateful to the Conemaugh School of Nursing Alumni Association for this gift, which will be used to assist deserving nursing students for years to come.